Audio & Video Entry Systems
Entry Systems can be supplied & installed as either Audio (Speech Only) or Video (Visual & Audio) the choice is yours and normally dependent upon budget.
Our sister company Select Security Systems are a CAME-BPT Gold Installer for 2015 & 2016.
The CAME BPT Gold Installer Scheme has been running very successfully now for over 10 years.
The scheme rewards BPT installers and those companies installing the largest numbers of BPT products as well as for their loyalty & professionalism by providing them with a variety of tangible benefits; 'Look after those who look after you' is their motto.
From simple multi wire audio entry to IP integrated developments with AV functionality, Gemini Security Solutions are able to supply and install a system to suit every requirement.
The BPT system range and components are designed using the latest innovations in door entry technology, to deliver outstanding quality and unrivalled reliability.
Whether you require a small system for a single property or a system with multiple blocks and a porter switchboard Gemini Security Solutions can provide a design to meet or exceed your requirements including full integration with a standalone Access Control System, CCTV or Crestron the world leader in AV and home automation system controls.
GSM: Telephone Based Entry Solutions
The GSM range from BPT is a telephone based door entry solution.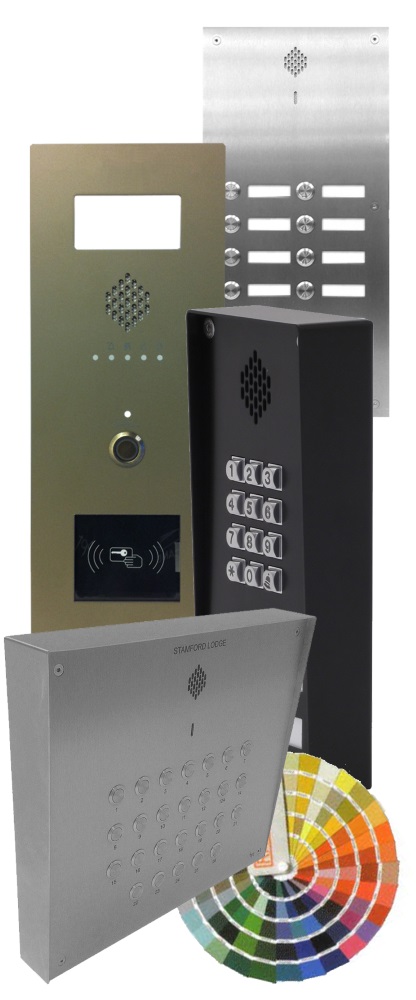 Using GSM mobile or PSTN landline technology, this system is designed for installations where system cabling cannot be installed easily.
Telephone based technology is ideal for installations where there is an extended distance between a gated entrance and the main property or where the entry panel is required to communicate with a mobile phone.
Gemini Security Solutions are able to supply & install the full range of GSM panels made by BPT along with Vandal Resistant & Brass panels which are manufactured in house to the highest standards.
Bespoke panels can also be produced to meet any requirements.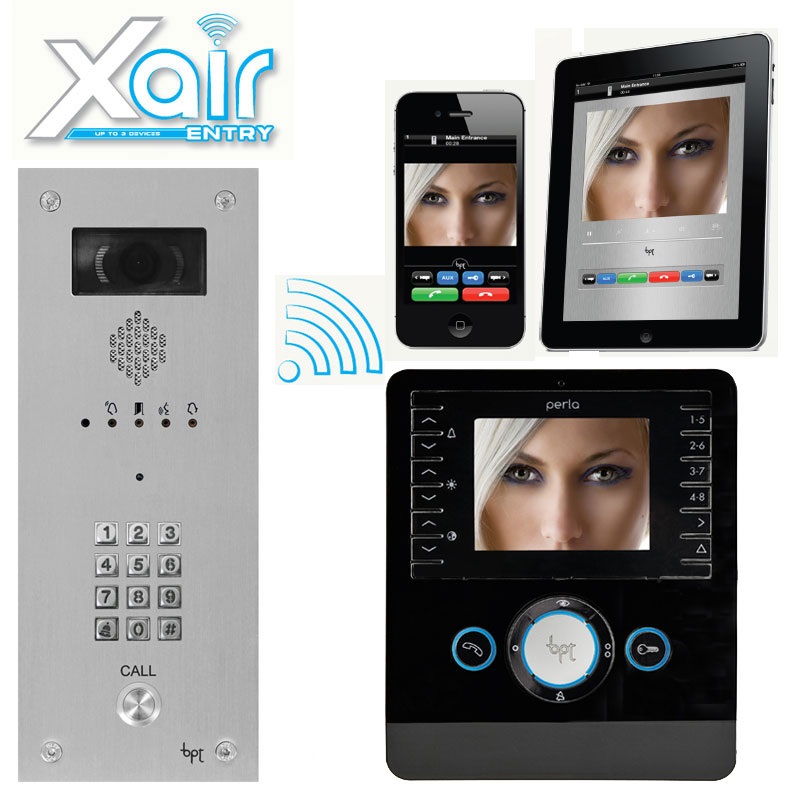 X-AIR: Mobile & Tablet Entry System
X-Air takes video entry to the next level of innovation. Exceptional quality images and audio are transmitted directly to your tablet or smartphone, allowing two way conversation and door / gate release functions (Compatible with Android or Apple Devices).
Video calls can be transferred between devices & integrated remote cameras can be viewed.
In fact whether you are sitting by the pool or sitting in the garden you have access to all of the functions you would expect from a normal handset / monitor at your fingertips.
Using a standard wireless router, the X-Air apps work on their own or side by side with traditional hard wired monitors to give ultimate flexibility.
The X-Air is available in two versions X-Air & X-Air Plus.
From A Single House To A Large Residential Complex
The XIP system from BPT uses an Ethernet distribution network as the main vehicle for communication between all the gateways.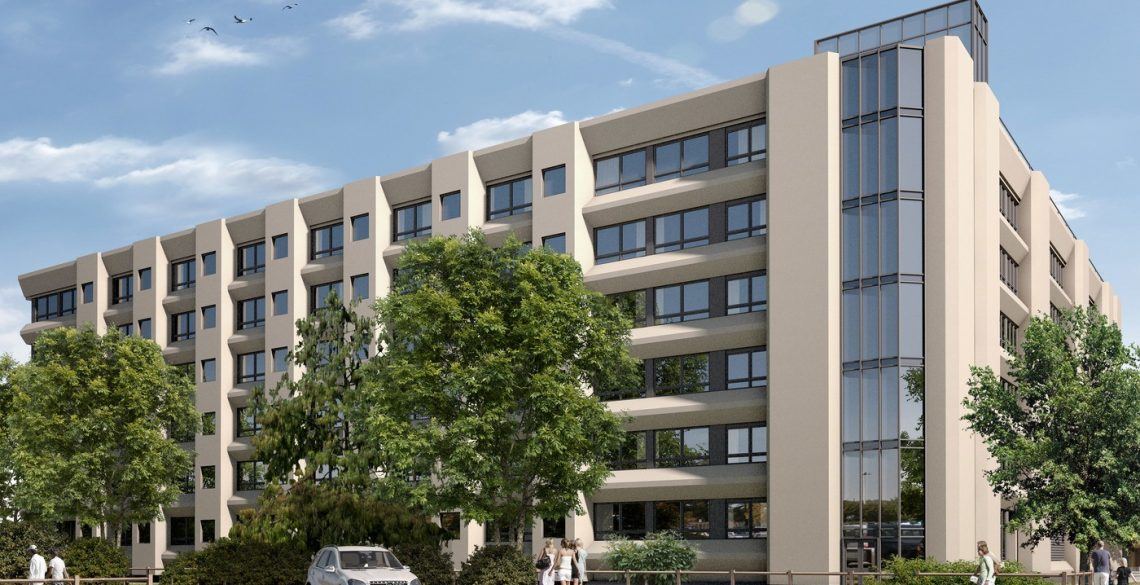 This means that the system can be expanded almost infinitely, while at the same time maintaining the traditional system of connection between the entry panels and the receivers.
This structure makes installation of the system components rapid and without complication. In addition, a wider range of models can be selected for installation at various points within the system.
By the use of traditional cables to wire up the entry panels, it is possible to install long-distance connections as well as to connect points that the existing data networks cannot reach.
The system also features an access control function, which supervises and controls all access points within a complex, as well as a range of Porter services, which complete the functions provided by the XIP system.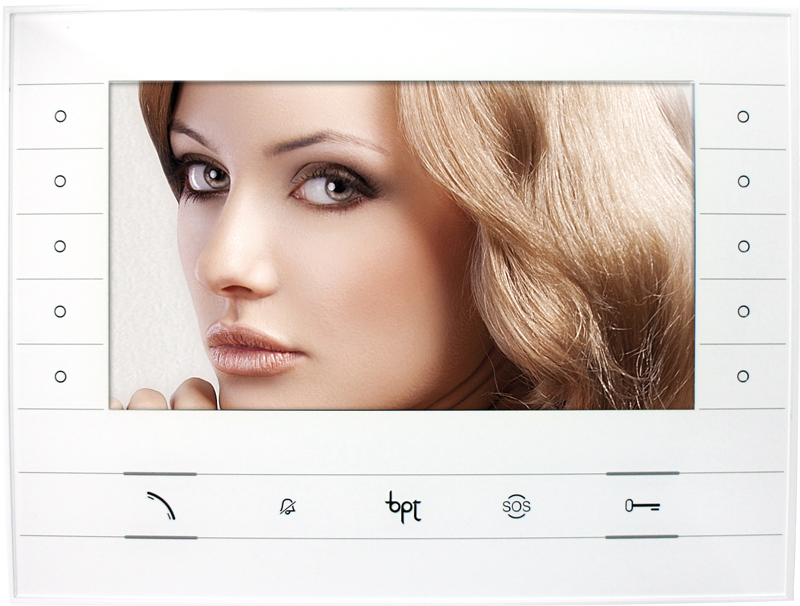 Porter Services
The software for porter services, which operates under the Windows operating system, can be used to supervise the entire system even in large-scale residential complexes.
The interface has been developed specifically to give the operator full control over the system in the simplest and most practical way.
Simple intuitive commands and the possibility of using the software with a touch screen PC are especially useful to operators who are accustomed to more traditional systems.
A webcam may also be connected directly to allow for two-way communication between porters.
DDA - Disability Discrimination Act
The DDA Panel range is designed in accordance with:
• The Disability Discrimination Act 2005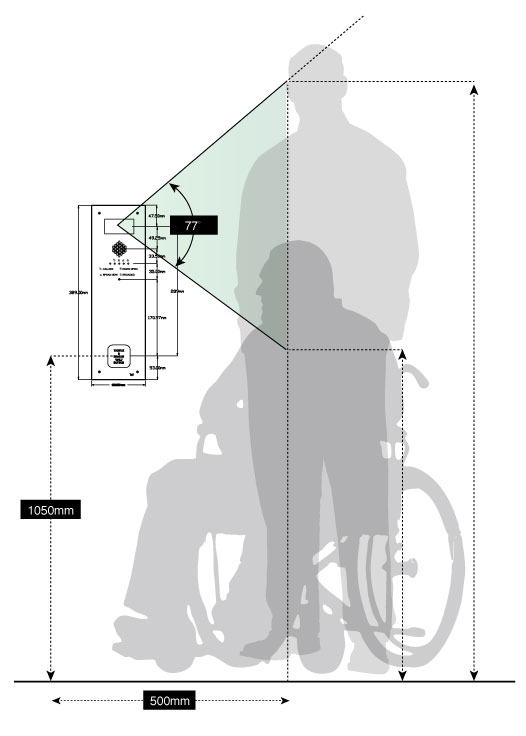 • The Disability and Equality Act 2010
• RIBA 'A Guide for Assisted Living'
• BS 8300:2009 (Section 6.6)
Manufactured within the UK to the highest standards after extensive research into relevant legislation, the panel designs are aimed at providing improved access solutions in line with the current Disability
Discrimination Act and Disability and Equality Act (2010).
The innovative stretched panel and wide angled camera design, means a single entry panel can be used for both standing and wheelchair height users.
The panels feature a Tactile Push Buttons & Indicator LED's, Optional high contrast signage and induction loop may be included.
Maintenance Contracts are available to ensure that your system is kept in prime condition and that access to an experienced engineer is only a phone call away.
See Maintenance