Monitored Systems
The system installed may be the same as (or similar to) a bells-only system, except that - when the alarm is activated - an integral modem informs the Alarm Receiving Centre via a burst of data much the same as a fax tone.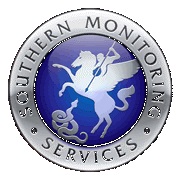 Dependent upon the signal received & the design of the Intruder Alarm System the Alarm Receiving Centre will be able to confirm if the alarm condition is un-confirmed (1 detector triggered) or Confirmed (2 detectors triggered) at which time the Police are alerted.
With this point in mind, it is important that the alarm is designed correctly to ensure that should a burglary occur the alarm will trigger 2 separate zones quickly before the intruder can get to far into the property.
It is important that the monitoring centre is recognised by the Police.
A unique reference number (URN) - which identified the premises - must be obtained by the Installing Company from the Police, when the system is installed.
To get this number, the installer and the monitoring centre must be registered with a certification body - such as the SSAIB.
Monitored systems do not guarantee a Police response.
If it is reasonably certain that someone has entered the premises, it will be flagged as a confirmed activation. However, if a system has three false alarms in a year - four in Scotland - the URN will be revoked by the Police.
To be reconnected, evidence that the problem has been resolved must be provided to the Police within three months.
Types of Monitored System
Digital Communicator /DigiCom
This is the most common method of signalling at this time, and communicates with the Alarm Receiving Centre (ARC) via the properties telephone line, operational costs are low, but if installed incorrectly or where the properties incoming phone line can be easily compromised this method of monitoring will be made ineffective if the phone line is cut or disabled.
RedCare Monitored Phone Line

The Redcare Classic product now has crucial, third-party certification that meets rigorous insurance requirements for Alarm Transmission Systems (ATS).
This LPS 1277 certification is the strongest assurance you can get that your alarm signalling system is the best choice available.
Redcare Classic is a grade 4 system that offers the most secure form of alarm signalling available.
The service provides continuous monitoring of the BT telephone line that links a professionally installed alarm system on a customer's premises to an Alarm Receiving Centre (ARC).
The result is continuous protection, every second of the day, every day of the year.
Unlike other alarm signalling services, Redcare both alerts the ARC when it detects a line cut AND provides encryption to prevent the substitution of equipment or "spoofing" (emulation) of line conditions.
This is why Redcare is the most secure system of its kind.
Key benefits and features:
• No need for an extra telephone line (a Modem Compatible Device may be required if fax and data services are to be used on same line).
• Active, continuous 2-way monitoring - 24 hours a day, 365 days a year.
• High-speed alarm transmission summons help within a matter of seconds.
• Alarm signals can be delivered to the ARC even when the phone is in use.
• Encrypted signals which cannot be replicated.
• Instant detection if your phone line has been cut.
• Our duplicated network ensures the highest levels of resilience.
• No additional call charges.
• Ideal security and fire detection application for any home or business.
DualCom Dual Signalling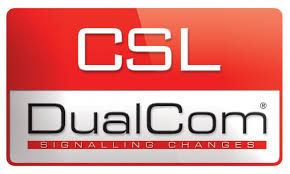 The DualCom GradeShift range offers a single piece of hardware for every grade of risk with interchangeable EN Grades.
Single path options G2r and G3r utilise all mobile networks via their WorldSIM to signal an alarm and are the ideal solution where there is no telephone line available.
Dual path options G2, G3 and G4 utilise multiple signalling paths via their WorldSIM & the properties landline to signal an alarm and have been designed with the lowest to highest risk premises in mind.
You simply pick the grade required.
DualCom is trusted to protect hundreds of thousands of premises throughout Europe including many major retail brands.
Key benefits and features:
• Multiple signalling paths on board - GPRS, LAN/IP and telephone
• Detects signalling path failure in seconds (line cut, GSM blocking, network failures)
• Dual signalling is preferred by insurance companies and the Police
• GradeShift enables remote up/down grade for change in insurance specification
• EN Grade 2/DP1 dual path signalling service
• Polling via Gemini every hour
• Upgrade to GradeShift UDL available
• Multi-network WorldSIM as standard for increased reliability
DualCom DigiAir
The DualCom DigiAir utilises all mobile networks via the DualCom WorldSIM instead of a telephone line to signal an alarm from the protected premises to the Alarm Receiving Centre (ARC).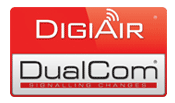 It is designed for low to medium risk premises and is an ideal upgrade for wired digital communicators as it eliminates call costs and phone charges.
DigiAir is small enough to fit into any existing or legacy control panels.
It can be supplied complete with a Compact Power Supply for installations where the control panel is unable to consistently provide 12v DC and provides a more aesthetically pleasing finish.
DigiAir is also unaffected by Next Generation Networks (NGNs).
Like all CSL products, DigiAir is supported by the Gemini Platform, a Critical Connectivity platform responsible for the integrity of hundreds of thousands of premises throughout Europe.
Key benefits and features:
• Eliminates call costs and phone Charges
• WorldSIM as standard to increase reliability and reduce false alarms
• Designed for maximum panel compatibility
• Small enough to fit into any existing panel
• Dial Capture provided as standard
• Fast Format, Contact ID and extended SIA
• Unaffected by NGNs
• Patented Technology - GB2465833
• Can be pre-fitted to Compact Power Supply if required